RTG3800
CNC Tool Grinding Machine
The RTG-series is the world's highest-level grinding machine in the 21st century. It was developed from our long years of expertise and technological know-how from dealing in PCD grinding machines by KANEHIRA. They are a leading grinding machine manufacturer with over 30 years experience in the manufacture of PCD tool grinding machines.
デジタルだから出来ること
By using digital camera, a initial preparatory work performs smoothly, and various measurement and saving measurement image in real time.
Saving a work before and after the processing, so that it contributes quarity assurance.
Observing from low to high magnification by a zoom lens. Especially small diameter nose R set smoothly in high magnification.
Crack or separation of work can be observed by epi-illumination. Especially it demonstrates on regrinding process.
Axis composition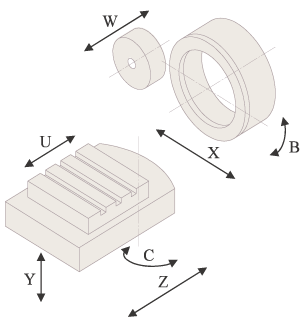 Processing example
Interactive program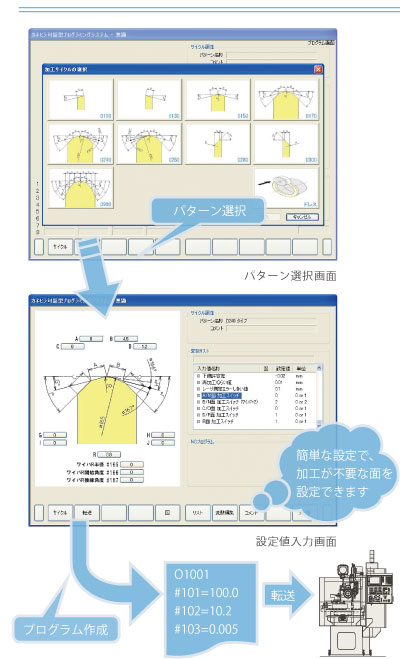 Features
Machine mounted laser measurement (optional)
The Blum laser system measures the configuration of the workpiece on the machine,completely automatically. The results of the measurements are used to prepare for the next machining session,to reduce the time needed for highly accurate machining. Setup time is also substantially reduced.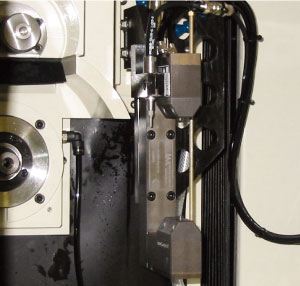 AE sensor system (option)
The AE ultrasonic sensor incorporated in the main spindle alerts the operator to any micro-vibration which might occur in the main spindle during operation. The alert is shown in real time on the monitor. It can also be used for checking the resistance while grinding,for sensing contact,and other purposes.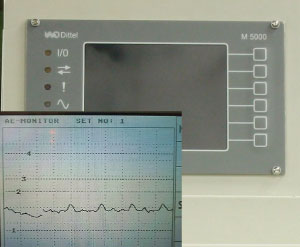 Machine mounted dresser
The high-performance dresser mounted on the machine continuously keeps the diamond wheel aligned and flat,for the best accuracy. This provides high accuracy,great uniformity ,and high efficiency to your machining operations. Programming for constant compensation will get the most out of the NC.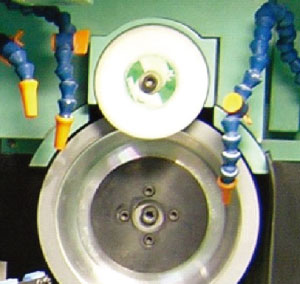 High-rigidity bed
A number of thick ribs are used for the machine,after careful consideraton of the distribution of mass on the superstructure. This provides the rigidity required of a PCD tool grinding machine,as well as the ability to absorb vibration.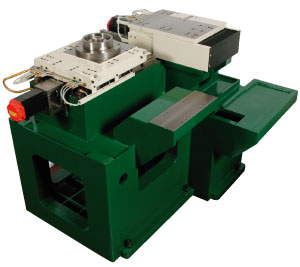 Space saving
The entire machine is enclosed snuggly in a housing that uses only a very small floor space for installation (1550mm x 1742mm).There are no unnecessary projections of doors or servomotors. The operation panel is carefully designed and organized for easy operation.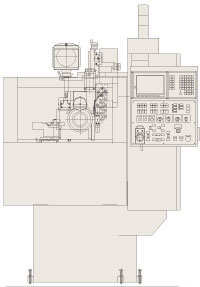 User macro
A great many user macro programs(some macros are optional) are possible, for easy and efficient operation. The machine comes with some macros already installed. Even operators who are not familiar with NC machines can easili progam a macro. We also stand ready to make customized macros, according to a costomer's machining needs.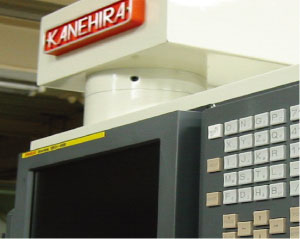 The futures of RTG3800
8 axes NC control
Lazer measuring
AE sensor system
NC on-board dressing
Digital zoom camera device
With automatic loader
A workpiece is set on exclusive holder
Exclusive holder with ID chip
Micron folder with tempreture adjustment
新しく追加されたオプションによるメリット
Digital camera
Demonstrating power to smoothly start new item.
ID
Mixture flow production is possible by ID.
ID aquires the variations of workpieces and corrects them.
ID+Digital camera
Utlizing quality control and quality assurance by using and saving ID data of workpiece images.
Interactive program
You can create programs easy by PCD tool grinding interactive programming system that combines KANEHIRA's know-how of PCDgrinding over many years. It can response to change shape of item promptly.
ハードディスクレス・オープンCNCの採用
Reliability of open CNC in PC is improved greatly. There is no risk of data loss by crush.
Automatic loader
A nighttime unmanned operation is possible.
Standard specifications
Controls

CNC axis

8 axis (X,Y,Z,C,B,U,W,V)

Operation panel

Equipped with LCD(9.5inch)

Manual pulse generator

1 set

Operation unit

FAUNC 32i-MB

Wheel spindle

Spindle motor

spindle motor

Wheel spindle speed

500-4000min-1

Swivel angle

AC servomotor(B axis)

Wheel shape

Taper cup type φ200 x T65 x H60

Wheel spindle stock

Wheel spindle stock travel

AC servomotor(X axis)

Work
table

Cross table horizontal travel Right and left

NC(V axis)

Cross table horizontal travel Right and left

25mm

Cross table horizontal travel Back and forth

AC servomotor(U axis)

Cross table horizontal travel Back and forth

40mm

Work table swivel

AC servomotor(C axis)

Work table swivel angle

-95°~+95°

Infeed table travel

AC servomotor(Z axis)

Infeed table travel

115mm

Cross table vertical travel

AC servomotor(Y axis)

Cross table vertical travel

70mm

Onboard dresser

Back and forth travel

AC servomotor (W axis)

Control function

Continuous/intermittent selectable

Wheel for use

Cup type φ100mm

Machine weight

Wheel flange

Work tools
Option
【CCD camera unit】
CCD camera | 6 magapixel color CMOS
High precision zoom microscope | 1~5x
PC | Windows 7,HDD250G,DVD drive,Keyboard,Mouse,USB3.0,LAN
Monitor | 17 inch color LCD
Monitor magnification | 40-200x (zoom lens)
Measurement function | Scale,between two points,radius angle,calibration
Display soft | Cross scale,concentric circle,semicircle
Transmitted light | LED 6W
Camera | Reinforced-camera mount system

【Coolant unit】
A
Tank capacity / Pump | 60L / 60W
B
Tank capacity / Pump | 60L / 60W
Filter | Simple paper filter
C
Tank capacity | 120L
Filter | Micron filter temperature adjustment
Work table(X-table) digital display
Signal tower
Custom macro soft
Auto measuring unit for wheel position
Auto measuring unit for work form |
Used laser point gage
Auto measuring software for work
Wheel axis acoustic unit | To know touching with a wheel
Work loading unit
Machine dimension