KRG300
Rotary Dresser Forming Machine Roll Forming Machine
It is possible to process in sub-micron order by high-precision of a diamond rotary dresser.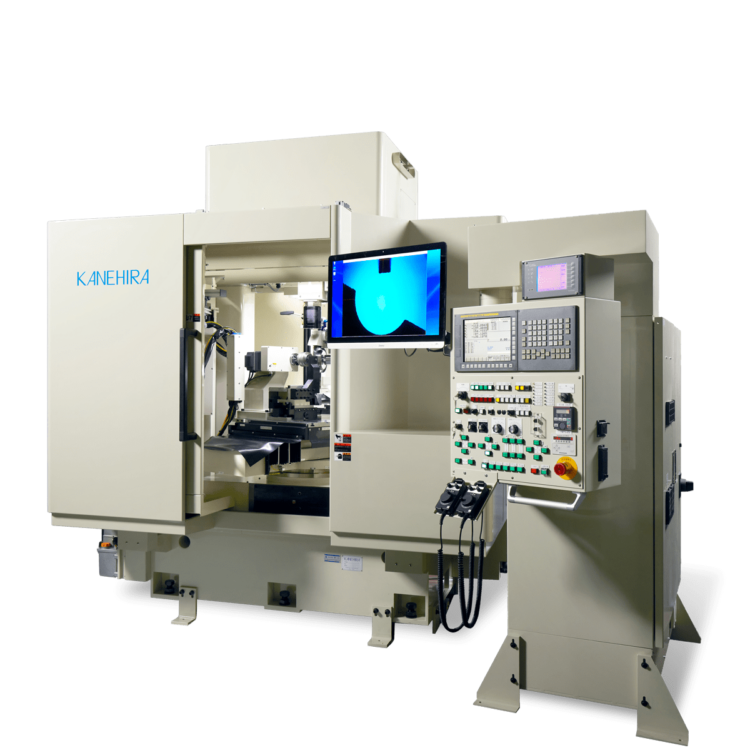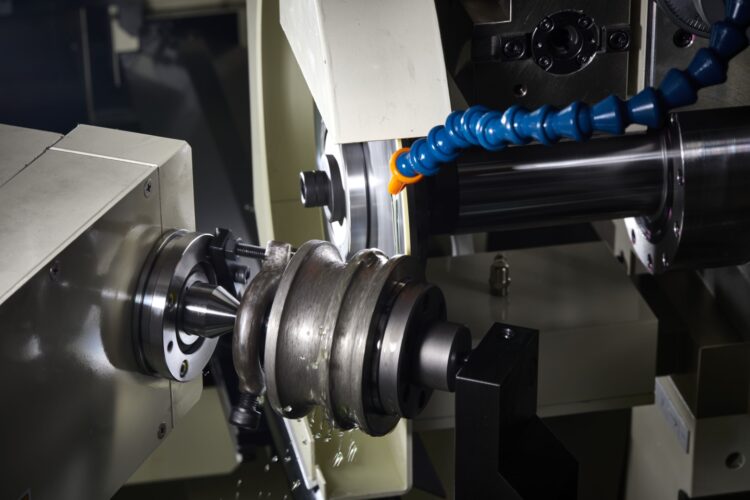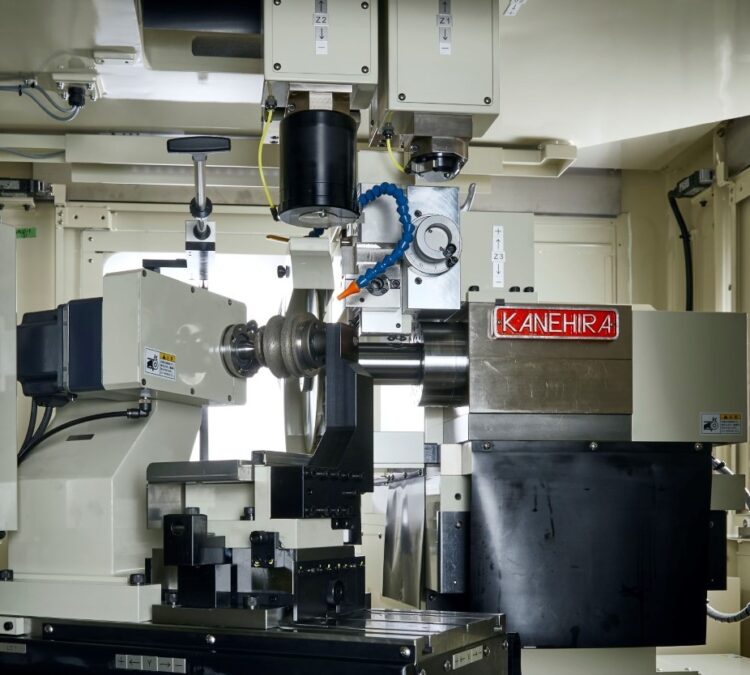 Features of KRG-series
Both center processing, combined R processing, wet processing.
Irregularity processing with setting the work piece on the swivel base.
It is possible to handle interrupt by manual pulse generator(2axis).
The setting and measuring are available with the large size projector / digital CCD camera.
It allows processing time to be shorter, and unmanned operation.
Sample by Rotary dresser processing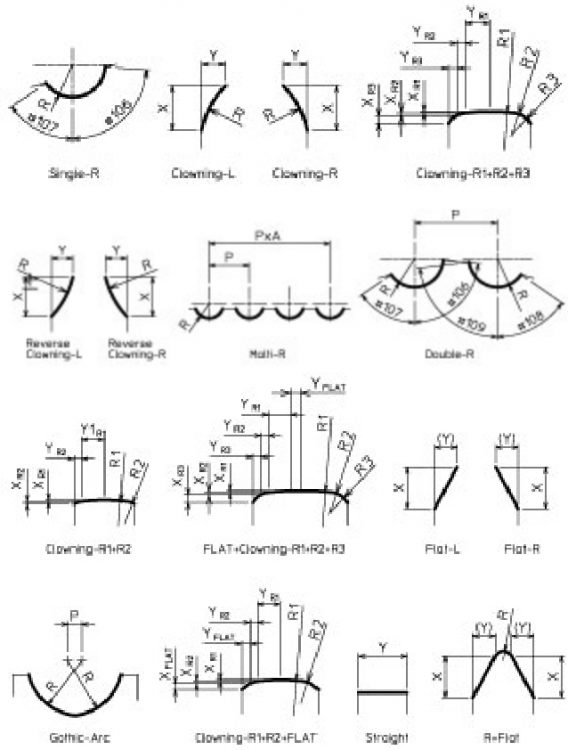 Measurement example of double R-lapping processing
Besides high precision lapping used of the rotary dresser, it is also used high precision forming of V-face diamond wheel, and formed grinding of high-hardness materials.
R=4.01±0.005
P=28.00±0.005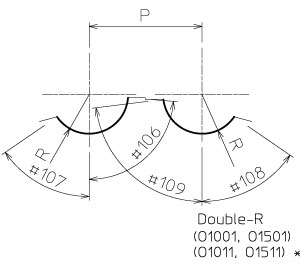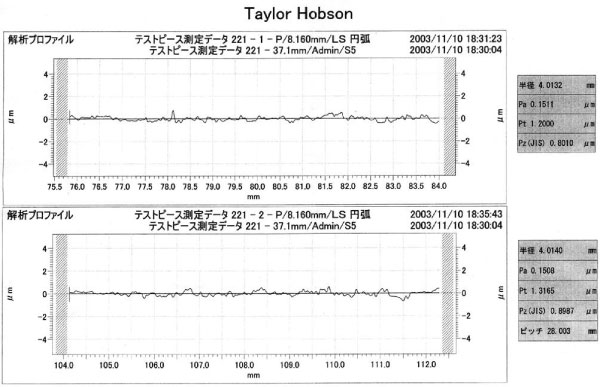 The swivel base enables to process the submicron circular arc processing.
The swivel base that is high rigidity and precision is unequaled makes possible to process the submicron circular arc.(a figure drawn on the left side of processing example)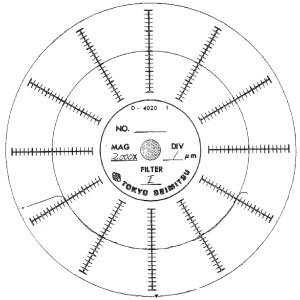 The High Rigidity Guaranteed
We put our know-how of machine development, and guarantee the high rigidity of the bed and whole machine structure.
The machine is high rigidity and low oscillation;the machine body is complete-box-type-structure and a bed filled up with concrete. The highly accuracy linear roller way are used on the table slide . It enable to have a rigid body and an accuracy movement.
High-performance Control Function
Manual pulse generator (2 axis) is equipped as a standard.
Auto-handle interrupt is possible, and you can bring out the skilful work.
Normal Direction Controlled
On programmed operation, control the axis to make the dresser for processing turn to normal directon at all time. It makes possible to perform the precise profile machini
Acoustic Equipment(AE) with a Built-in Wheel Spindle
Touch sensitive of workpiece is detectable by resolution 0.2maicro meter(actual value).
Positionig the workpiece and sensing the micro deflection are carried out objectively by waveform observation.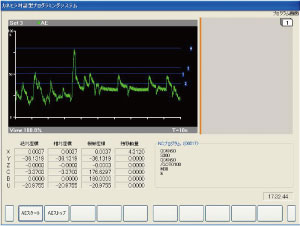 Abundant Software / CAM System
Operate this 5-axis control machine easily.
A shape pattern macro program
Interactive programming system
KG-CAM(authoring the NC programs by CAD drawing (DXF date format and multipoint date)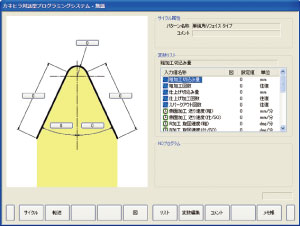 Standard specifications
Workpiece

Min. processing dia.

80mm

NC unit
FANUC / MELDAS

5-axis

Work table swivel / Work table longitudinal / Work table traverse Wheel spindle stock longitudinal / Work spindle stock feed

Min. command unit

0.0001mm/0.0001° (NC axis)

Manual pulse generator

2 axis

Work table

Longitudinak travel (Y-axis)

140mm

Traverse travel (X-axis)

260mm

Work swivel table

Swivel angle (C-axis)

-90°-+90°(NC axis)

Swivel bearing

Reinforced type

Work spindle

Both center type work spindle

Dead center

Number of revolution

40-400min-1

Electric motor(DC servo)

0.12kW

Max. weight on board of workpiace

5kgf

Wheel spindle

Longitudinak travel (U-axis)

170mm (NC axis)

Traverse travel (V-axis)

260mm (NC axis)

Grinding wheel

φ300 x 10 x φ60mm

Number of revolution(inverter)

1000-4000min-1

With centralized lubrication system

Machine dimension

Standard accessories

Working tools
Option
【Digital CCD camera unit】
CCD camera | φ300mm MA(swiss)
High precision zoom microscope | 1-5x
PC | Windows 7,HDD250G,DVD drive,Keyboard,Mouse,USB3.0,LAN
Monitor | 17 inch color LCD (OP 21inch)
Monitor magnification | 40-200x (zoom lens)Magnification range is changeable by lens exchange.
Drawing soft | Cross scale,concentric circle,semicircle
Measurement function | Scale,between two points,radius,angle,calibration
Drawing function | Cross scale,Concentric circle,Parallel lines
Structure | Vibration-free bridge type:supported at 3 points
Vertical travel | 10mm
Traverse-longitudinal travel | 13mm each
Acoustic Equipment with a Built-in Wheel spindle |
For wheel-touch sensitive / grinding load / sharpness monitor
Coolant unit |
60Ltank 60Wpump / 100Ltank 180Wpump
Coolant unit with simplified paper filter |
60Ltank 60Wpump / 100Ltank 180Wpump
Coolant unit with temperature regulator
(simplified filter) |
150Ltank / 180Wpump
NC unit |
NC with PC function (FANUC)
【Macro soft】
Grinding macro soft | Patterning soft license
【PC soft】
NC date creating soft | KG-CAM license
RS-232C communicaton software | NC comunicator license
Machine dimension