DFM210
Diamond Wheel Dressing Machine /CBN/Grinding Wheel(manual type)
Diamond wheel from dressing and truing machines are full-dressforming machines that perform high-accuracy from dressing and truing of diamond wheels as well as CBN wheels with outstanding efficiency.
More accurate wheel shape requires toprecisely process a workpiece.
Even if you have a high precision CNC grinding machine, an precise shape is not formed by a wheel that is distorted and wore the tip R.
DFM series can possible to adjust a tip R shape of wheel by easy action, and perform high accuracy processing.
Processing a work with precise can not by such a distorted wheel.
To achieve a high precision shape by correcting a shape of tip with high accuracy.
(The image of work piece by digital camera.)
Features of DFM-series
The each parts of the machine posses high stiffness. Accordingly,diamond or CBN grinding wheels are formed at high accuracy.
The top of the work is an exchangeble type and is provided with a centering mechanism. For that reason, it is easy to mach the work with the flanges of every company.
Oscillation of the grinding wheel spindle with a crank mechanism has a silent motion.
This machine is combined by a compact design. For that,it is easy to work and not necessary for it to get a big space.
It can combine many options economically suiting for various uses.(Auto in-feed, Swiveling)
A motion of machine in correcting a wheel

Formed work samples

Auto in-feed, Swiveling
This ratchet feed mechanism allows intermittent automatic infeed within the range from 0.0025mm (minimum) to 0.03mm (maximum), with the maximum auto-infeed amount being 50mm. The performance of this device is significant when machining requires fine infeed or takes long time.(optionally for DFM210)
Automatic swiveling is possible. Swiveling angle is set by the stoppers which allow precise setting while eliminating errors due to repetition of swiveling return motions. It is possible to process such as grinding tools exactly an arc(corner radii).(DFM410R)
The swivel drive adopts am airhydro-mechanism to secure smooth rotation of the wheelhead and to minimize the thermal deformation at the same times.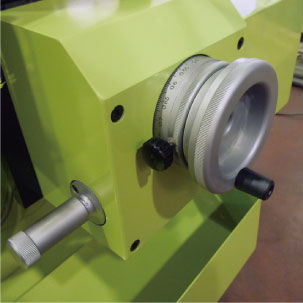 Increase of durability
It is true that the most cumbersome enemy against maintenance of accuracy and performance of a wheel forming machine are abrasive grains produced through forming operation.
Once abrasive grains that contain diamond or CBN particles enter the machine parts, they will invade and erode the movable parts andoptical system soon like a virus. We have given the utmost care to dustproof measures and coolant penetration for the DFM-series, and still continue to provide further improvements.
For the most important wheelhead swivel mechanism, a combined system of labyrinth and air purge is adopted for dustproof and waterproof measures. The swivel base is internally pressurized with 99.99% or more moistureless air to provide an air curtain to prevent external coolant splash and abrasive grains from entering the inside.
The effectivity of this system greatly contributes for improvement of the machine durability.
Options
Simple CCD camera (included monitor)
Allows precise monitoring of the work forming condition.
Wheel spindle angular offset device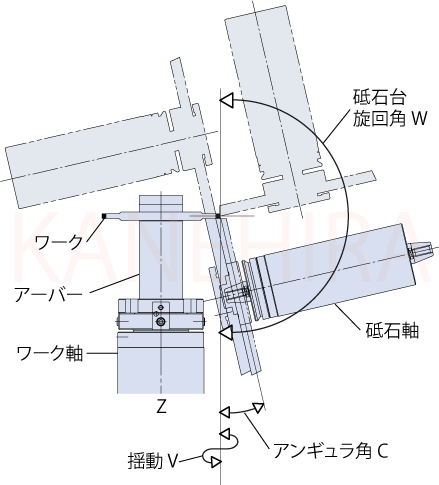 Allows forming of both sides of as small diameter work by one chucking without turning it over.
Work spindle arbors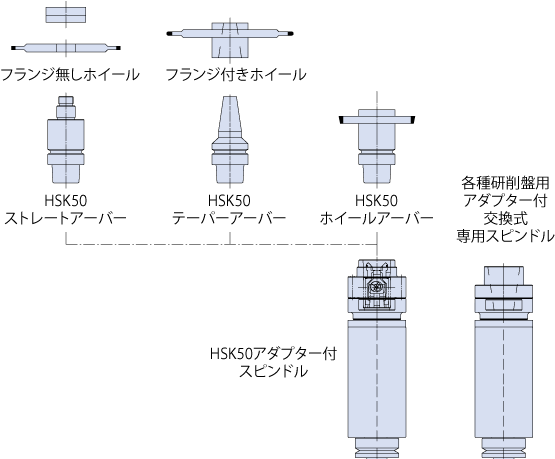 By making use of high-prection replacable arbors that fit various wheel flanges of different manufactures'grinders, the work spindle nose can be adapted to many types of wheel flanges at low cost.
Standard specifications
Maching capacity

Work spindle
(principal axis)

Quil type spindle with centering machanism

φ80mm

Work slide

Cross travel(Z-axis)

100mm

Longitudinal travel(X-axis)

115mm

Wheel spindle

Wheel size
(Dia.xWibthxBore)

φ130x13xφ31.75

Angular offset angle(A-axis)

OP

Wheel table

Infeed(U-axis)

Per revolution of handle 1mm 0.005mm / graduation

Auto.infeed unit(U-axis)
(intermittent cutting section)

OP

Oscilling stroke(V1-axis)

0-25mm

Oscilling travel(V2-axis)

20mm

Oscilling speed

10-30time/min

Swiveling angle(B-axis)

±100°

Wheel slide auto.swiveling unit(Swiveling speed)

OP

Projector unit

Simple CCD camera
(included monitor)

OP

Machine weight
Option
Coolant unit|60L tank, 60W pump
Auto.infeed unit of grinding wheel spindle (standard spec. for DFM410/510)
(Intermittent infeed by rachet & interval timer)
|Feedrate0.0025mm-0.02mm
In-feed of oscillate synchronization
Swivel base auto-swivel device (standard spec. for DFM410/510)
|Swiveling speed 6 degree/sec - 12 degree/sec
Wheel spindle stepless speed change (by inverter)(standard spec. for DFM410/510)
Wheel spindle motor (DFM210)|0.4kW strengthen spindle
Wheel spindle angular offset device(A axis) (standard spec. for DFM410/510)
|0-20°
Digital angle meter of wheel slide swiveling (standard spec. for DFM410/510)
|Min.display5′
Digital angle meter ofwheel slide swiveling
|Min.display1′
In-feed amount digital display
|Min.display0.001mm
Digital display of position of work slide (X,Z axis)
|Min.display0.001mm
Dummy piece test grinding attachment
Splash guard
Adjustable splash guard (Magnet type)
Simple CCD camera (included monitor)(standard spec. for DFM410/510)
|17 /21.3 inch LCD
Digital CCD camera (included monitor) 40-200x zoom
|17 /21.3 inch LCD
Wheel flange
Spring collet holder(φ1-16mm)
Taper sleeve holder
Special-purpose holder
Special-purpose work spindle
Machine dimension